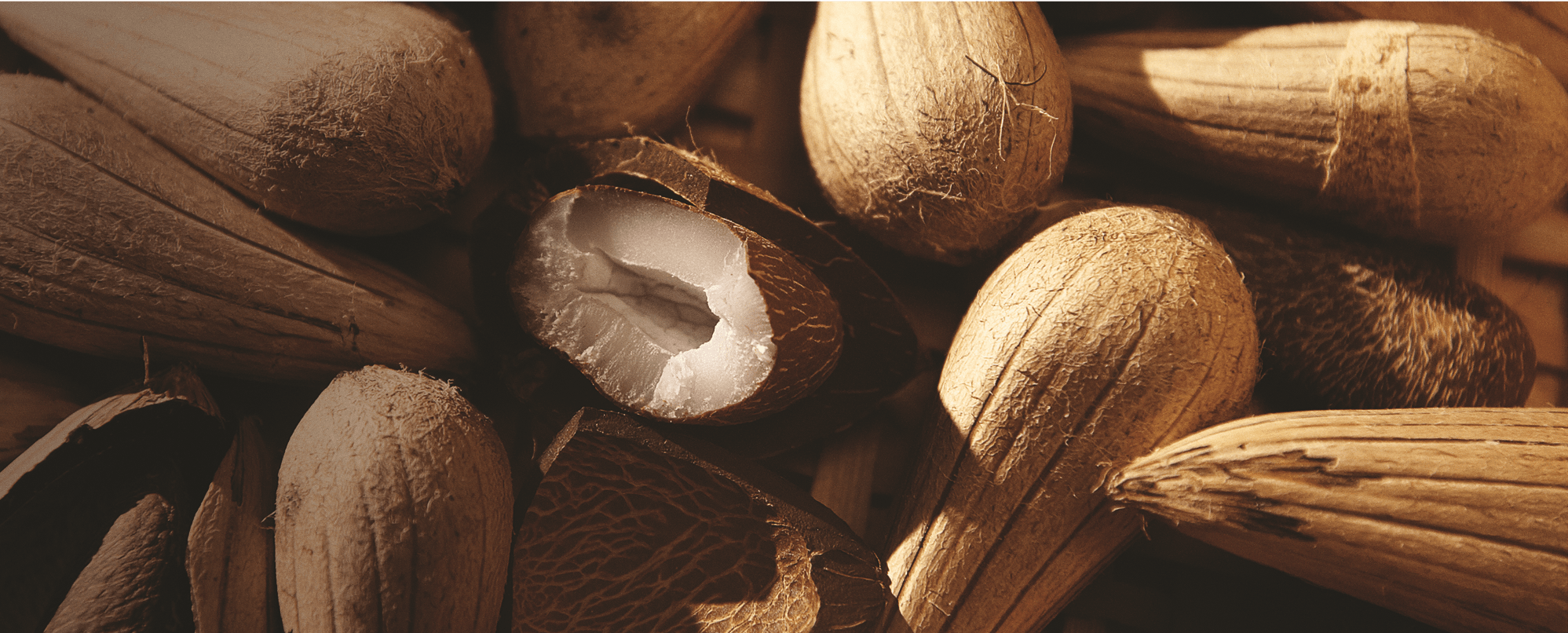 Murumuru is an amazing fruit of Amazonian biodiversity, which was not properly valued until recently. It comes from a tall and thorny palm tree, which used to be burned to make way for the cultivation of açaí. The discovery of seeds as a valuable raw material for the cosmetic industry reversed the logic of deforestation. 
Natura has studied Murumuru and has scientifically proven that its butter has a high affinity with the hair fiber and remarkable properties to repair damaged hair strands and restore natural elasticity.
Commercial Value
"A few years ago, most of our farmers burned murumuru, which was considered an enemy for the farmer. But, when our cooperative started working with Natura, we started to see the commercial value. Hence, farmers began to preserve those they already had, "says Vanildo Quaresma, field coordinator at Cooperativa Cofruta, in Abaetetuba, a city 50 km from Belém (PA).

Cofruta is one of the communities in the Amazon region that partners with Natura and is responsible for handling this and other biodiversity ingredients used in our products.
Results Since The First Application
Murumuru is only harvested when it matures and falls to the ground. The pulp of the fruit becomes food for forest animals and a powerful yellowish butter is extracted from its seed.

With a high concentration of murumuru butter, the Ekos Murumuru line is formulated for those who need intensive hair care. The products provide double action on the hair: they penetrate deeply into the hair fiber, filling the cracks, and align the cuticles, restoring the natural elasticity.

The reconstruction of damaged hair is noticed since the first application, according to 90% of the consumers interviewed in a sensorial survey conducted by Ibope (Brazilian Institute of Public Opinion and Statistics).
Complete Treatment
For daily care, the Ekos Murumuru line has shampoo and conditioner, which cleans and moisturizes the threads, reducing damage.

To protect the hair, there is a pre-shampoo mask. Enriched with proteins, it conditions and forms a protective shield, preventing hair breakage. To finish, the  combing cream makes them less brittle and repairs split ends.
Our experts also recommend the use of our award-winning murumuru restoring hair mask. This mask won the Victoires de La Beauté contest in France. It was recognized as one of the most innovative beauty products in the world by a jury of independent french consumers.