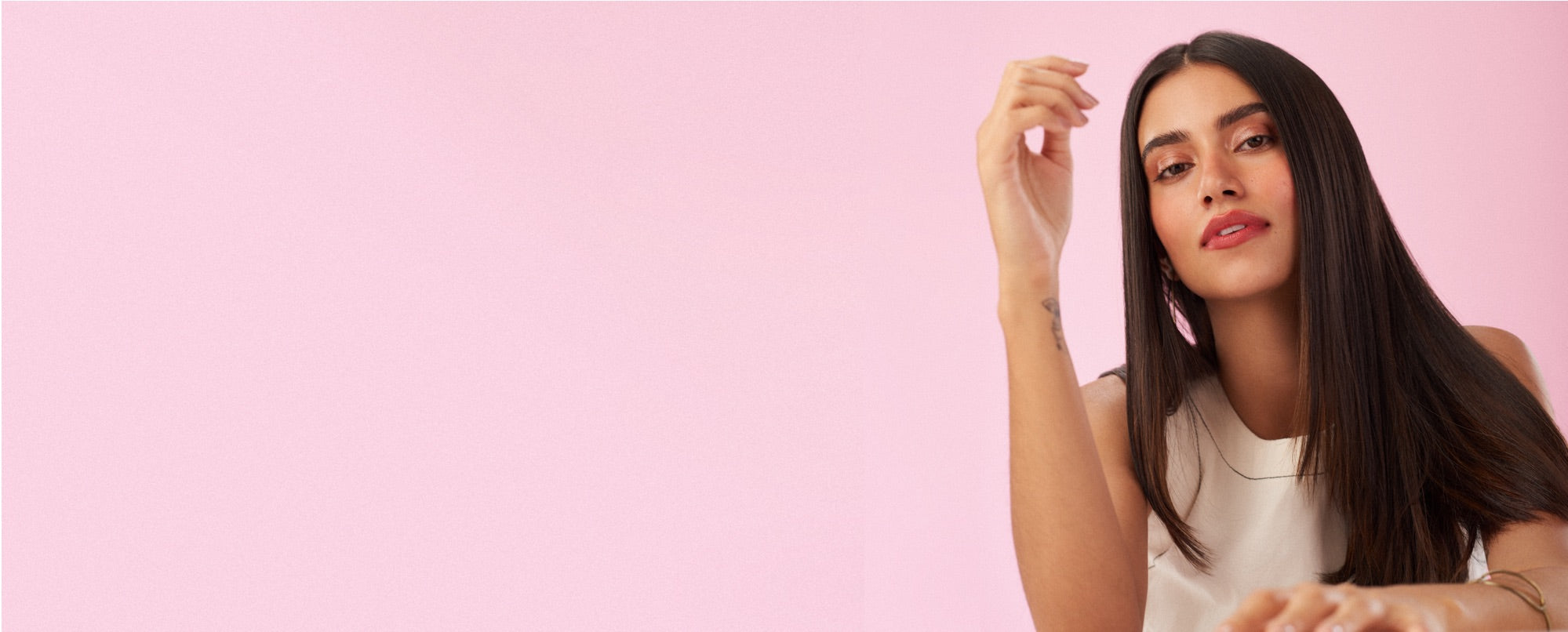 How To Determine Your Hair Type: Four Factors To Consider
When it comes to finding the best hair care routine for you, determining your hair type is crucial. Many hair problems may be prevented from simply using the right products, and choosing the right hair products starts with knowing your hair needs. 
Every day should be a good hair day. One of the easiest ways to make that possible is by knowing and understanding your specific hair type!
Marcela Buchaim, a leading pharmacist and trichologist, wrote: "Depending on your hair type, your needs will change. You may need more or less hydration or reconstruction." That being said, the most important characteristics to determine your hair type are density, diameter, texture, and greasiness. 
Hair Density
Hair density refers to the amount of individual strands you have. Having a thin hair density means you can easily see your scalp whereas having a thick hair density means you can hardly see your scalp. To help protect thin hair and maintain thick locks, use the Murumuru Restoring Hair Mask. This hydrating mask will promote growth, improve elasticity, and prevent the breakage of strands.
Hair Diameter
On a similar note, hair diameter refers to the width of an individual strand. Some hair types are stronger than others — a thick strand of hair is harder to penetrate than a thin one. Whether your hair is thick or thin, it's important to choose a good shampoo and conditioner that will keep the cuticles in good shape. Using our Patauá Strengthening Hair Oil is an effective way to strengthen dry, damaged, or thin hair. Made with the patauá fruit, this oil will replenish and fortify strands while stimulating hair growth. To maintain thick hair, use our Patauá Strengthening Hair Tonic. Simply apply every other day to sustain hair growth.
Hair Texture
There are 4 main types of hair texture: straight, wavy, curly, and coiled. Each texture has different characteristics. For example, straight hair is usually less breakable than curly hair. With that in mind, it's important to use the correct products for your given texture. For curly or wavy hair, we recommend using our Lumina Curly Hair Complete Care Set. It includes our sulfate-free shampoo, hydrating conditioner, nourishing leave-in treatment, and restorative hair mask. We also have a Lumina Complete Care Set for straight and coiled hair!
Hair Greasiness
Knowing how greasy your hair is can help you better take care of your hair type. There are four levels of greasy hair: dry, normal, oily, and combination. To manage oily and combination hair, try the Lumina Oil Control Complete Care Set. This vegan, sulfate-free shampoo and conditioner balance the scalp, helping to control oil. On the other hand, for dry hair, use the Lumina Dry Hair Complete Care Kit. This kit will strengthen and moisturize strands that may not be getting enough oil from the scalp.
Understanding the factors that determine your hair type will help you cultivate healthy, luscious locks.